We Are... 
Every year, Made in Brunel strives to represent Brunel Design in the most inclusive way to promote and showcase all student work to the wider community. This year we became 'We Are Made in Brunel', bringing the focus back to us, the students that empower it. As a student-led initiative, this allows us to have autonomy over how we promote the designers of Brunel 2020. 
As the year comes to a close we have the opportunity to reflect on the achievements of the year, all the fantastic events held, and work produced. We kicked off the year with the annual Brand Launch, an event designed to get all those in the Brunel Design Community together, celebrating the new brand. In January, we set about producing a very successful Pop-Up event on Shoreditch High Street, attended by over 200 industry professionals and students. Final year work-in-progress was reviewed, and talks from Brunel Design alumni were hosted offering an insight into their journeys and experiences in the design industry. 
Next came the annual Industrial Review Evenings, specifically designed to get feedback on major projects, and offering funding opportunities. The work shown did us proud, and a fantastic couple of evenings were had, paving the way for some of our student's work to gain industry recognition and backing. The 24 Hour design challenge was another highlight of the year offering a fun and testing event for students in all years with industry briefs to complete for student portfolio projects. 
The culmination of every year, an event that every design student aspires to is the Brunel design showcase at the OXO Tower on the banks of the Thames. Sadly, like most events this summer, it had to be cancelled due to the COVID-19 pandemic. However, determined to still showcase our work, the production of this book became the big focus. Increased social media coverage and the launch of the 'Isolation Work Station' also helped to engage the Brunel design community. 
Here we are, at the end of all the hard work. The We Are Made in Brunel book along with the 2020 digital portfolio. We could not be prouder of the team, their passion, kindness and humility throughout the year has been a breath of fresh air during an otherwise tough time. We hope you enjoy reading this publication – a collection of diverse inventive design solutions and we wish every Brunel Design student the very best in their future endeavours. We are Made in Brunel. 
Made in Brunel and COVID-19
Brunel Design is known for making things. The name of our brand 'Made in Brunel' speaks for itself.
Our workshop facilities, technicians and highly creative students all go together to make practical work of an outstanding quality every year.
So, it was with disbelief and enormous disappointment that we had to shut the doors of our workshops when the country went into lockdown on 23rd March. For the past 40 years our final year students have produced prototypes and models as part of their final year major projects. 2020 is the first year that major projects are largely digitally rendered. Fortunately, the students had all submitted their contextual design models a few days before lockdown and it is interesting to compare in this book the photographed physical models of contextual to the mainly rendered images of the major projects. I hope that next year we will see a return of students to workshops, bringing with it that invaluable experience of making and testing that is such an important part of what we do at Brunel.
I assumed that when the university went into lockdown at the time that it would be the last I would see of the workshops for many weeks. However, two days later an enquiry came into the university to see if we could assist with some 3D printing for the Royal Brompton and Harefield NHS Trust. The clinical engineering team there were researching into converting existing items of equipment such as domiciliary ventilators into ventilators to treat COVID-19 patients in critical care. The idea was brilliantly simple; using 3D printed adaptors of various designs, each machine could be connected to the hospital oxygen supply and the oxygen then pumped via a mask to the patient. Many journeys back and forth from the 3D printing lab at Brunel to the hospital followed over the next few weeks and we managed to convert many machines, giving the hospital some much needed extra capacity at the height of the crisis.
The research into the use of 3D printing to help fight COVID-19  is continuing and it is hoped that this work will benefit countries worldwide in the future.
Around the same time, there was a global shortage of PPE to protect frontline staff. One of these items was the protective face visor. Almost immediately, a British war time spirit kicked in with individuals and organisations putting both their staff and facilities to good use to help manufacture extra PPE to help the cause.
Our close links with St Thomas's NHS trust gave us our first opportunity to help with this. They had set up a facility in partnership with the 3D printer manufacturer iMakr to 3D print and manufacture thousands of visors to supply the London hospitals. Many of our students and alumni volunteered to work unpaid at the facility; many travelling great distances every day to work long hours there.
We were keen to put our own 3D printers to good use to help local hospitals and care homes, some of which had been unable to source any PPE at all. Things started on a small scale when I set up a few small printers at home but it wasn't long before many students, staff and alumni came forward with offers of help and we soon went from producing a few visors a day to a few hundred a week. Our team steadily grew; with people 3D printing from home, making visors in the workshops and taking orders through our social media channels. At its height, we had 17 volunteers and 25 3D printers manufacturing 800 visors a week, with daily deliveries across West London. It was a challenge to keep up with demand, with rising infections and deaths, we concentrated our efforts on care homes, many of which were in desperate need of help, and with rising infection rates and deaths in care homes, we concentrated our efforts into helping them in particular.
By the start of June, when we started to wind things down, we had produced a total of 5000 visors and supplied around 80 different organisations. Our main goal from the start was to try to help protect the people who were the real heroes during this crisis. We only had to make a delivery of visors to a care home or hospital and be met with gratitude, smiles and sometimes even tears of relief to give us the motivation to carry on.
Looking back, we are extremely proud to have been able to put our skills and workshops to good use during this troubling time. Every year, Made in Brunel is a fine example of teamwork at its very best, and for very different reasons 2020 was no exception. We could not have done any of it without the dedication of all the staff and students who got involved. Unfortunately, there were far too many people involved to thank individually here, but a huge thank you goes out to you all!
A special thank you must go to the Brunel Design's *sharper alumni for donating money to help with the cause and to Warner Media for sponsoring our visor making. Without their generosity none of this would have been possible.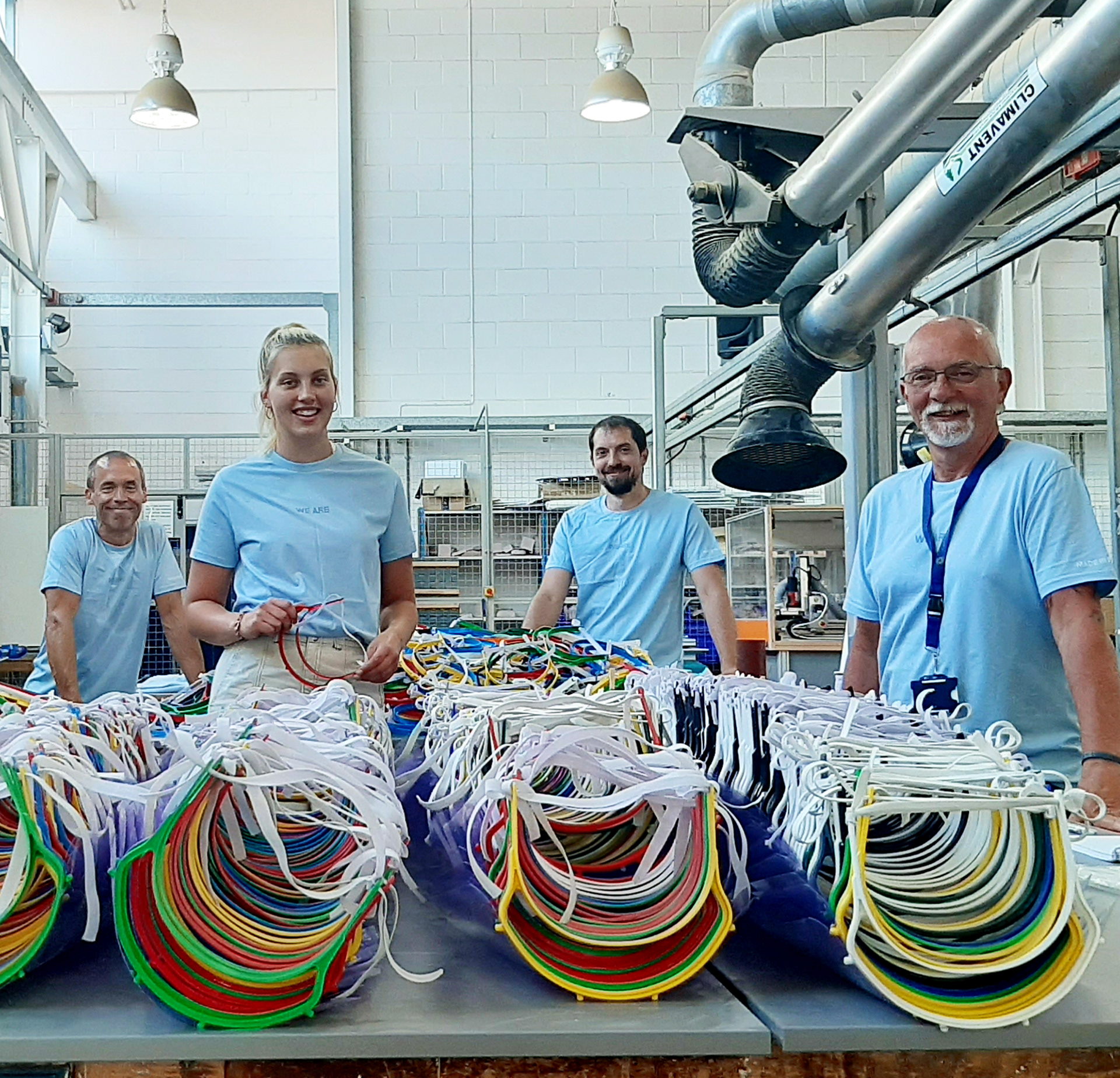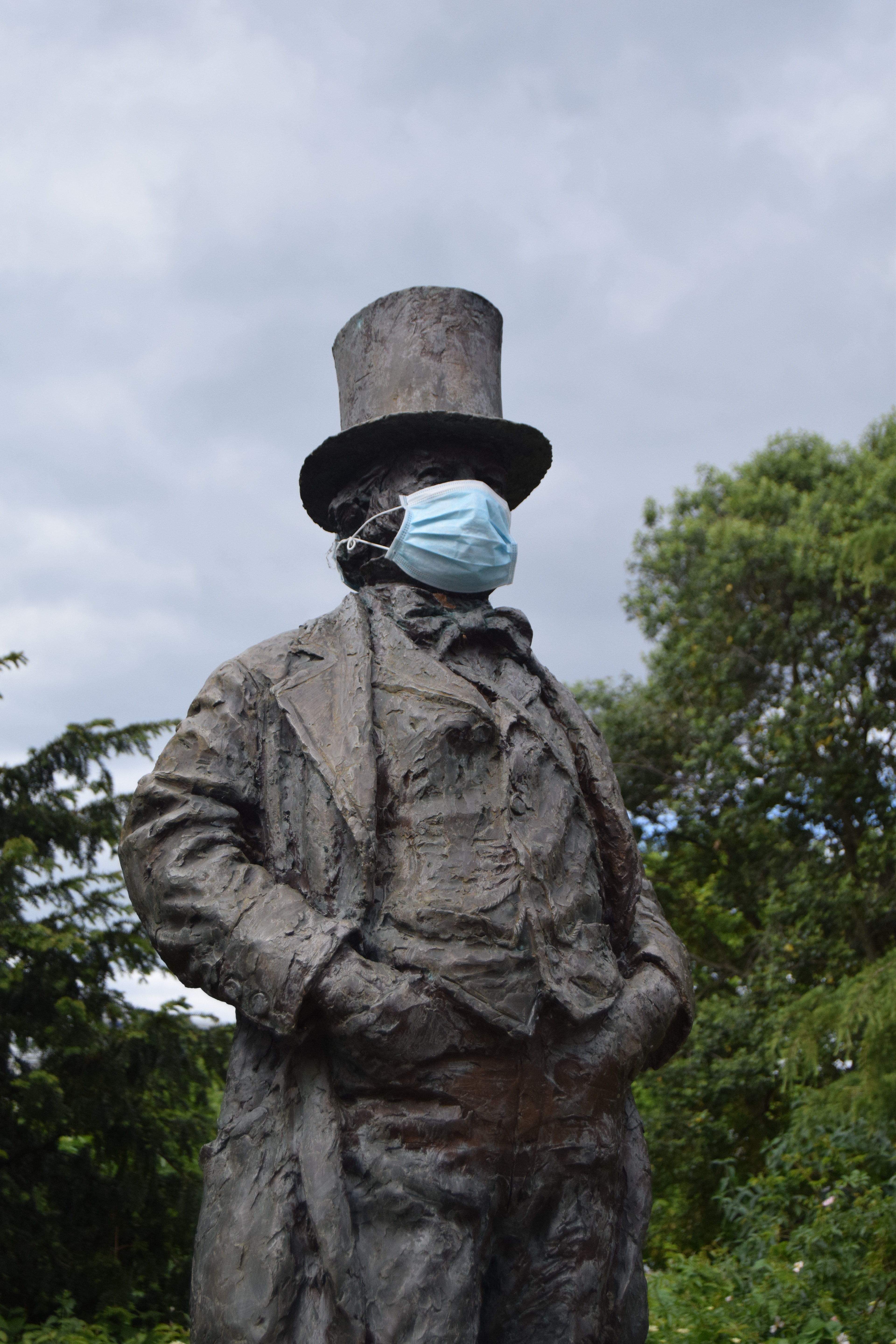 A note from the head of design...
2020 has been a very different year. The COVID-19 pandemic and the lockdown it caused in March meant that, for the first time in the history of Brunel Design, the final year students were not able to complete their major project prototypes in the departmental workshops and, as a first since Made in Brunel was launched in 2006, the exhibition could not be held in the physical world.
It was under these circumstances that our strong culture of collaboration made all the difference. Following the campus closure and a swift response to the lockdown regulations by the department, the students managed to finalise the major projects collaborating with the academic supervisors online and submitting the work as high-quality digital models, while the very efficient Made in Brunel team ensured this book is produced working from home and the showcase takes place across several digital channels. The book – symbolically titled 'We are Made in Brunel' – presents the best of these collaborative efforts in the challenging times.
Although very demanding, the academic year 2019/2020 has not been all doom and gloom. The year has also been marked by two highly positive events, which are bound to redefine the design education at Brunel in the years to come. The first event is the formal establishment of Brunel Design School, which will unite the Department of Design and the Division of Digital Media from the Department of Electronic and Computer Engineering with a view of growing the educational provision in digital design, in particular in the areas such as digital product and service design. Secondly, Brunel has gained membership in Design Factory Global Network, an alliance of 31 innovation centres at leading universities and research organisations spanning five continents of the world. This membership will enable a number of international cooperation activities, adding to the student experience in the new School.
In hope that life goes back to normal soon, I wish all graduates of 2019/2020 a very successful future.